Posted by @Mrstrubeauty for Anila Hair on 29th Apr 2015
Winged eyeliner also sometimes referred to as the Cat eye; is a simple beautiful timeless look.
Women have been wearing this style of eyeliner since eyeliner was created.
Not only can winged eyeliner be a perfect dressed down look. It can also be done for special occasions for a classy look. The amazing thing about winged eyeliner is there are so many styles to chose from.
Each style giving you a different look so the possibilities are endless. In the media we see many celebrities from Amy Winehouse (rip), Beyonce, Kim Kardashian to Nicki Minaj just to name a few. They all rock different styles of the winged eyeliner look from a simple wing to a very dramatic and bold wing. For many it's a go to look. 2015 is different the year to start rocking your winged eyeliner for any affair. Doing this style of eyeliner can be very difficult so I recommend watching tutorials and practicing before you show the world your liner. Lets be honest ladies nobody wants to be that girl who gets the wrong attention for putting on their eyeliner wrong.
Here is a great tutorial found on the net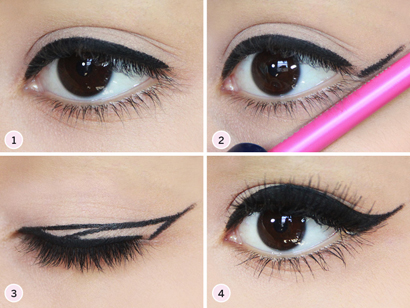 And the celebs that have made the Winged Eyeliner/Cat Eye look so popular:
Nicky Minaj
Beyonce
Kim Kardashian